(SPX)(QQQQ)(SPY)(GOOG)(APPL)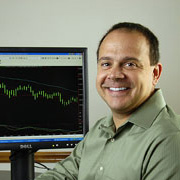 Today we talk with the founder of Emini Trading Strategies - David Marsh.
Here's an excerpt from David's site -
Personally, I trade for 1 point and stop for the day. Why do I do this? Simple, trading for income is my goal—a consistent and conservative approach to daily income. I do it every single trading day. I like to be done early in the morning, so I can have time to do the things I want to do.
Isn't TIME what it's all about really? You trade your time for an hourly wage working 8 to 12 hours a day, 5 to 6 days a week, just to come home tired, bombarded with bills, burdened with chores, and no time for yourself or your family.
It doesn't have to be this way, not for the people who choose to learn a new way using my emini commodity futures trading course.
What if you could "work" 30 to 90 minutes a day trading the e-mini markets? Trading with discipline and my proven methodology for the purpose of generating a daily income and then stopping for the day? Daytrading the Emini Futures Market is a GREAT way to do just that.
Learn to day trade eminis using my time proven method, The Tick Trader®, to earn AT LEAST 1 POINT A DAY trading the S&P 500 E mini Futures Market. My 30 Day Double-Your-Money-Back-Guarantee states you will make a minimum of 1 point a day, but honestly, you can make more—usually 2 to 3 points a day.
Visit http://eminitradingstrategies.com/ for more info.
CT does not accept cash, stock, warrants, or the promise thereof,
to profile or promote any company.
He works for YOU, the Christian Investor!