(QQQQ)(DIA)(SPY)($ES)(DJIA)






Correction Warning
By Colin Twiggs
October 5, 0:05 a.m. ET (3:05 p.m. AET)
These extracts from my trading diary are for educational purposes and should not be interpreted as investment or trading advice. Full terms and conditions can be found at Terms of Use.
A number of major indexes now signal a secondary correction. The third quarter has ended, but risk remains elevated for the next two weeks. The Dow is also at the key resistance level of 10000, further increasing selling pressure. A general correction across most major markets is likely.
The Baltic Dry Index is testing the upper channel border and resistance at 2500. Breakout would indicate the end of the correction of recent months — and that demand for bulk commodity shipping is recovering; a positive sign for commodity prices and resources stocks. Respect of 2500, however, would indicate another test of the lower channel; while failure of support at 1500 would signal reversal to a primary down-trend.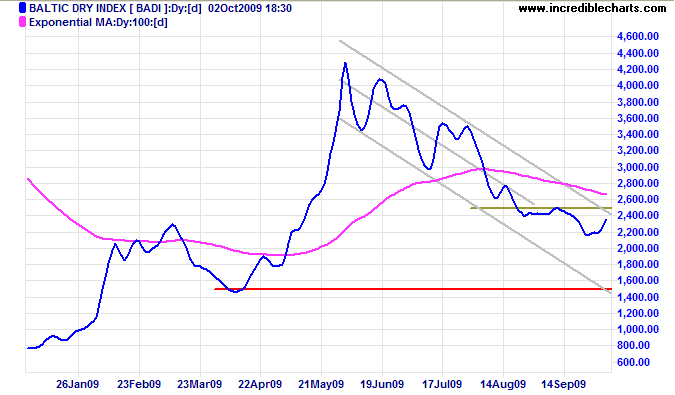 The RJ/CRB Commodities Index is retracing for yet another test of support at 250. Failure would warn that the secondary correction is not over. Follow-through below 245 would confirm that a test of primary support at 230 is likely. In the long term, recovery above 260 would indicate the start of a primary advance to 300*, while failure of support at 230 would signal reversal to a primary down-trend.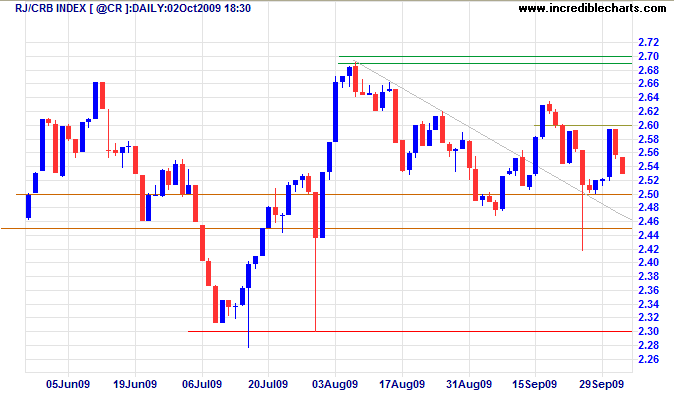 * Target calculation: 266 + ( 266 - 232 ) = 300
The Dow breakout below its medium-term trend channel warns of a secondary correction. Expect a test of support at 8800/9000. Twiggs Money Flow (21-day) reversal below its September low indicates selling pressure; a drop below zero would confirm the correction. In the long term, breakout above 10000 would offer a target of 12000*, while failure of support at 8000 would signal reversal to a primary down-trend.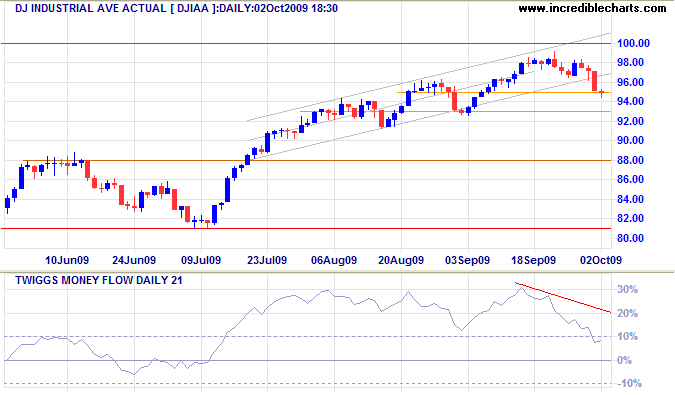 * Target calculation: 10000 + ( 10000 - 8000 ) = 12000
Gold Bullish Consolidation
In other commodities, gold has been consolidating around the 1000 level recently, threatening to take out the all-time high of 1,033 from early last year. If it holds the 1000 area and pushes through to new highs, the bull trend will continue, with a target in the 1300 area from the inverse head and shoulders pattern formed since early last year. A breakout in gold should also send silver much higher, with silver needing to more than triple to reach its all-time high. Adjusted for inflation, the all-time highs for both metals is much, much higher.
Since we posted that a week ago, gold has dipped below 990 4 times intraday, including today, only to close above that mark each time. Today's reversal off the morning dip and close above $1000 is very bullish action, and could portend a push to take out the all-time high.
Since Monday's close, the Dow has lost over 300 points, but gold has actually moved higher by over $10, even as the U.S. dollar has moved higher.
As long as the 1000 area holds, the gold action continues to look like a bullish consolidation. Traders can go long in the 1000 area with a well-defined risk using a stop below recent support (mid-980's intraday and 990 closing basis have been the recent support areas in December futures), giving a good risk/reward trading opportunity.
posted by
GreatTrades # 7:01 PM
0 comments