(QQQQ)(DIA)(SPY)(GLD)
"…take captive every thought to make it obedient to Christ"
(2 Corinthians 10:5, NIV)
Take Back Your Life
One of the chief rules of warfare is, know your enemy. You can never be successful as a soldier if you do not know something of the tactics of the enemy. This is true in military conflict and it is true in spiritual warfare as well. The second rule of warfare is, know your weapons. Know what you have to meet the enemy with, and know how to use them. Right here, of course, is why the church has been so weak. It is because it has neglected both of these areas. It has not understood its enemy, and it has not understood its own weapons. These are both revealed in this one verse of Scripture, and we must take time to look at them carefully and understand what they mean.
(read more)
Stack Trade Daily Results 06/04/10
Weekly Trading Zones
Multi-Billionaire Hugo Salinas Price is famed not only for his legendary business acumen but also his drive for honest money in Mexico and globally. Hugo has pushed the Mexican government for over a...
Bill Laggner is the Co-Founder of Bearing Asset Management along with his fund partner Kevin Duffy. Bill's fund has never lost a client in the history of their fund and the returns over the last 3...
More...
(CFRN Editor's Note: Owning shares of GLD does not mean you own Gold. It simply means you own shares of GLD. There is a difference. A very BIG difference.)
GLD Continues to Sparkle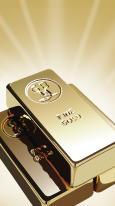 With the SPDR Gold Trust (
GLD
) leading all ETFs in assets gathered in May, accumulating an additional $5 billion, there is talk GLD could surpass industry leader
SPY
in assets within a few years - especially if gold continues to outperform equities.
Pray Hard & Trade Safe!
CT