(GLD)(IVV)(SPY)(DIA)(QQQQ)


"Pray for us, too, that God will give us many opportunities to speak about His mysterious plan concerning Christ. That is why I am here in chains"
(Colossians 4:3, NLT)
Breaking Chains
Political correctness notwithstanding, Christianity is an evangelistic religion. Its aim is to proclaim the good news that there is eternal life in only one: Jesus Christ. Its aim, by the grace of God, is to bring about the deliverance of men and women out of the domain of darkness into the kingdom of light. There are some things, no doubt, for which we as Christians ought to apologize, but declaring that faith in Jesus Christ alone is essential for eternal life isn't one of them. We should never hesitate to proclaim the "mystery of Christ" or shrink back from seeking the conversion of every soul.
(read more)
Weekly Trading Zones Daily Results
Last night we discussed the importance of 1117/1118 as resistance and 1099/1100 as support heading into Quadruple Witching Friday. 24 hours later the song remains the same. When the London session opened @ 3AM EST, the S&P futures began their trek higher only to find firm rejection at exactly 1117.50 just prior to the U.S. open. . This shows up particularly well on the 30 min. Globex chart I've posted below. Overnight we will continue to monitor the same levels. A break in either direction may well present the aggressive trader with a unique opportunity for a substantial move within a relatively short period of time. I feel certain that we will see a break out of this well defined range during tomorrow's session. As a word of caution, allow the breakout to offer you some form of confirmation based upon your own trading methodology. Once you find your entry keep in mind that a move back inside the range although not expected, should trigger your stop and give you cause to step back and reassess the situation. Tomorrow night I will post a chart that highlights all potential trade entries made available this week based on our Weekly Trading Zones. In the past we have published our WTZ's on Sunday night. As a courtesy to our members we will email the Zones on Sunday night but refrain from publishing them to the general public until Monday evening. To become a member of the CFRN Family of Christian Traders register today. We take your personal privacy very seriously. We will never sell or rent your email address to anyone for any reason.
We will begin Live Trading @ 10:30 AM Eastern with Michael Borque the developer of Stack Trade. Click Here to access both Audio and Video. If you've never seen the indicators in action, you're in for a real treat!
Trade Stalker Daily Results
Today was all about how the ES handled the 1102
area, and we were expecting a 2-sided trading day. The
higher open was sold and the ES fell from 1113.75 to just
under the 1102.50-1101.75 key support. The ES didn't stay
under that support for very long, and the quick reversal
back up from a 1100.75 low was the start of a stair-step
higher to 1110.50 by 2pm. The move fizzled out and the ES
fell to 1102.00 again, and able to hold that key support,
short covering/ buying started with 30 minutes left and the
ES rallied 10 points to 1112.50 at the close.
Mike can be heard LIVE every Mon & Wed here on CFRN.
Page Trader Daily Results
Thursday's session completed a very quiet narrow range day, making new swing trading entry less available at critical levels. The market completed S&P Messengers $1113.00 upside and $1102.00 downside targets. Although these are not important price completions, the market remains at a critical juncture on the upside making tomorrow's session important with several tradeable indications possible. I look forward to Friday's session. D.W.
Stack Trade Daily Results
Gold Ascending Triangle
By Colin Twiggs
June 17, 2010 10:00 p.m. ET (12:00 p:m AET)
These extracts from my trading diary are for educational purposes and should not be interpreted as investment or trading advice. Full terms and conditions can be found at Terms of Use.
US Dollar Index
The US Dollar Index retreated below support at 87.5, indicating weakness. Recovery above 87.5 would signal that the advance to 95* will continue, while failure of support at 85 would warn of a secondary correction. Declining
Twiggs Momentum
favors a correction — strengthened if the indicator crosses to below zero.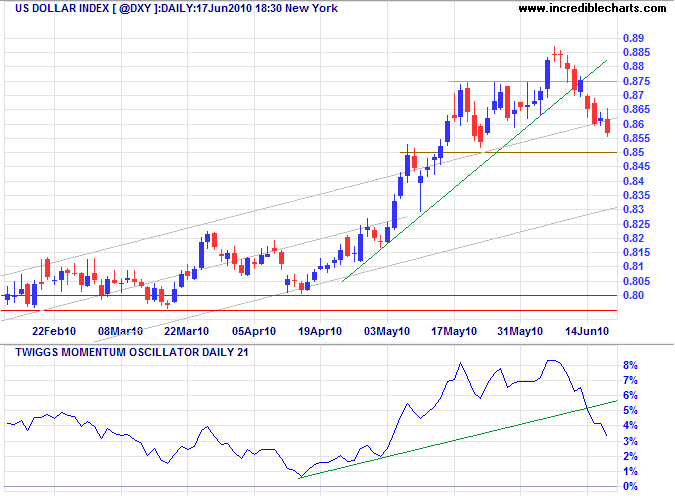 * Target calculation: 87.5 + ( 87.5 - 80 ) = 95
A weakening dollar strengthens gold, currently forming a bullish ascending triangle. Breakout above $1250 would confirm a primary advance to $1380*. Reversal below $1220 is less likely, but would warn of another test of $1170.
Twiggs Momentum
is uncertain at present: recovery above 8% would favor a breakout, while reversal below 4% would indicate weakness.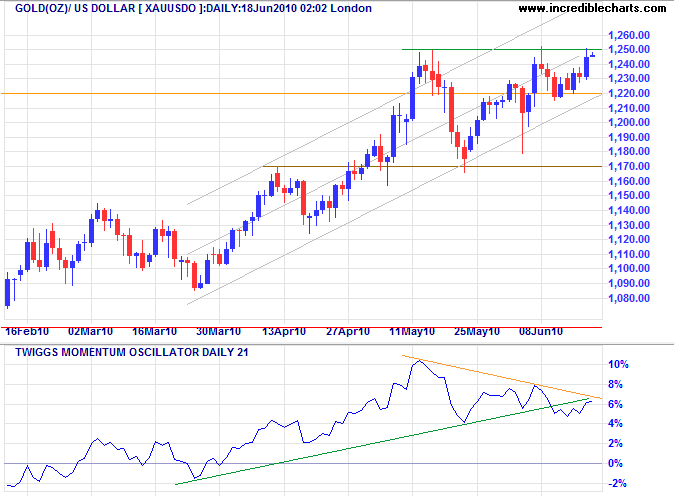 * Target calculation: 1220 + ( 1220 - 1060 ) = 1380