(GLD)(SDS)(DIA)(QQQQ)(SPY)


"Now the earth was formless and empty, darkness was over the surface of the deep, and the Spirit of God was hovering over the waters."
Genesis 1:2 NLT
"First this: God created the Heavens and Earth—all you see, all you don't see. Earth was a soup of nothingness, a bottomless emptiness, an inky blackness. God's Spirit brooded like a bird above the watery abyss."
Genesis 1:1-2 The Message
Where is God?
Someone might say, "show me God" - but what if
God is the invisible God, the hidden God?
Imagine there are two people on a flat piece of paper. These people are two-dimensional, having height and width but no depth; the paper is the extent of their world. Can they see you? No. They can see only what's on the paper (in their world). They have no depth perception. Now pretend you use your finger to touch the paper. Now can they see you? They cannot see all of you, but they can see the tip of your finger, the part that has entered their world.
(read more)
Mathematical Proof that God Exists
I first began to take the Bible seriously after a personal 6 month study of the topic of creation vs. evolution. I did this in the year 1998, about 2 years after I graduated from college. I started the study because I was feeling guilty about the way I was living my life, because of what I knew from the Bible. I felt I could cast off the guilt if the Bible were not true, and if man evolved. I actually wanted God to not be there. But after looking to see if he was there or not, I found Him.
(read more)
US overhaul could push some trading overseas
Silver: Time to Stock Up?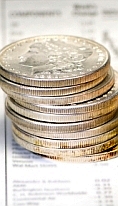 Unlike gold, which remains at or near all-time highs on a weekly basis, silver prices are still 60-70% below their all-time peak.
Weekly Trading Zones / Weekly Review
From the open on Monday and through the rest of the week, being short was the place to be. Have a look at the one indicator we talk about on the show everyday and see if that might not have kept you in the trade for a substantial move. Used as a trailing stop it may have stopped you out on a few occasions but the for the most part it did a great job of telling you which side of the trade to be on. The best things in life are not really things at all. Please touch the art.
Watch the open Sunday to see if we have a new channel forming based on the trend line we drew going into the close. If it breaks on the open watch for potential support at the top of the old channel.
Our Weekly Trading Zones for will be emailed to our members Sunday evening. Sign up today!
Pray Hard & Trade Safe!
CT