Thursday September 23, 2010
Page Trader Webinar - Did you attend today's webinar with David Williams? Are you excited? Ready to learn more? You can see it and hear it, Live in Real Time, every trading day. We invite you to join us and bring your questions. Gain complete access to our live audio broadcast and live charts. See for yourself just how simple trading can be. I didn't say easy, just simple. To join us tomorrow with no obligation whatsoever -
Click Here
Your link and password will show up within minutes.
Potential 24 point move on the December S&P 500 Emini Contract.
Yesterday, September 22nd, we posted a chart that outlined a potential descending price channel forming inside of the then current ascending price channel.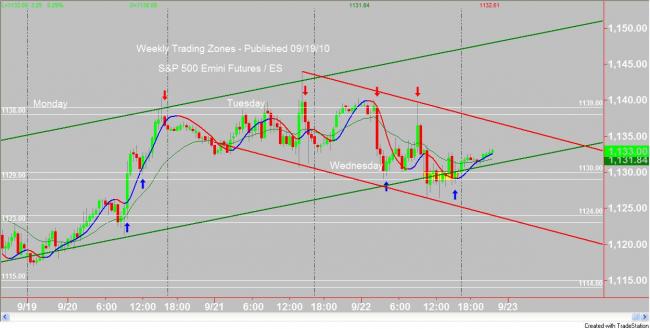 The ascending price channel had been trending for 8 consecutive trading days. Confirmation of a change in direction was confirmed last night during the Globex session off the London open.
Typically we only trade intra-day. There are occasions however, when a larger type set-up appears and we are willing to trade on the overnight given the proper set of conditions. We believe that just such a situation is at hand. The following trade idea is an example of the use of our Weekly Trading Zones and our own proprietary trading methodology. We are also utilizing some of the information that David has shared with our listeners over the past week and which he also mentioned in today's webinar. We will discuss the outcome on tomorrow's program.
We will sell the 1123/1124 Weekly Trading Zone on a pullback highlighted by the white X on the chart above. Our target for this trade is 1100. Our stop will be placed just above the top of the price channel (upper red trend line) which also currently lines up with our 1129/1130 Weekly Zone. The risk to reward ratio on this trade is quite favorable in our opinion. Price will need to rally slightly in order for this trade to fill. If by the London open our entry criteria has not been met, we will re-evaluate the trade idea.
Disclaimer - Trading is risky and you can lose ALL your money!
We will update further once the trade is underway.
Join us for Live Market Commentary M-F from 11am-1pm Eastern. To view our Live Charts during the broadcast
Click Here
.